Ahh! I'm sorry it's been so long since I've posted. Despite the three day weekend [three day weekends here are traps, since profs extend due dates, so we procrastinate more, and then we get super overworked], it's been yet another crazy week: Ricketts had their Interhouse party on Saturday, I went to the LA Phil at Walt Disney Hall on Sunday, swim conference meets lasted from Sunday to Tuesday, SURF applications were due on Tuesday, and the rough draft of my humanities essay was due on Wednesday, as well as a math set due on Tuesday, and an orgo quiz due on Wednesday.
Yeah. It was a *lot*. Where to start… I guess I'll go in chronological order, so… Ricketts' Interhouse, Apache! [Note that it's pronounced a-POSH, although I'm not sure why.] One of the things that sets their interhouse apart from the other ones is the construction: rather than building everything in the weeks and months before, they "build" everything the Thursday night before the party. The reason I'm putting build in quotation marks is because there is no actual construction—they cover the walls, ceilings, and windows of their lounge and dining hall with black paper and clear out the tunnels that people enter the party from. [The tunnel entrance is another really cool part about Apache.] It takes them pretty late into the next morning, but partway through, they get In-n-Out burgers! Yum. Anyways, their style of construction really gives the party a unique atmosphere. While I'm not a Skurve, I helped them build Apache for an hour or so, to procrastinate take a break from writing my SURF proposal. It was lots of fun! Though all of the duct tape ripping and loop-making hurt my fingers a lot…
Here are some pictures during Build Apache:
Here we are, just starting out with clearing the lounge and taking off the curtains. Notice the huge amount of tape in the bottom right corner: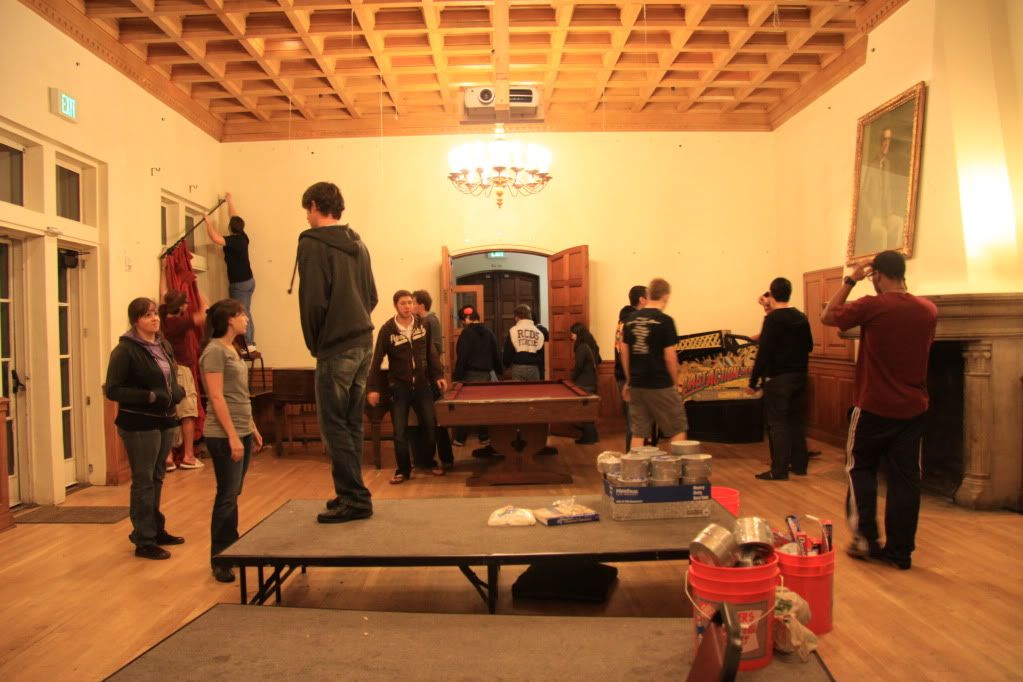 Now look at where all the tape goes!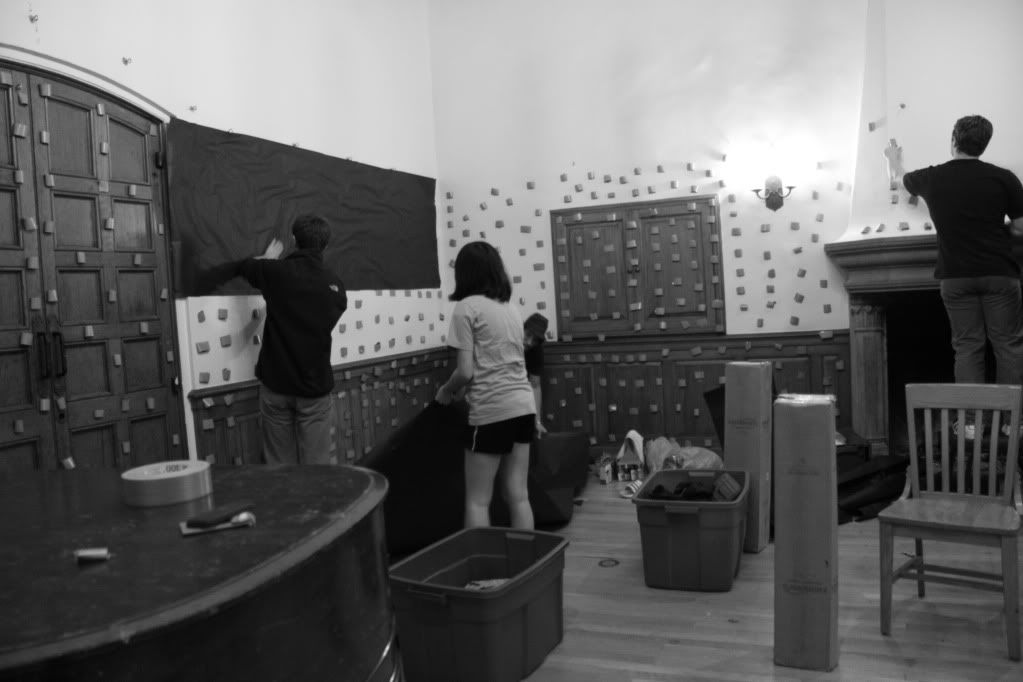 Covering up the passage between the tunnel and the party: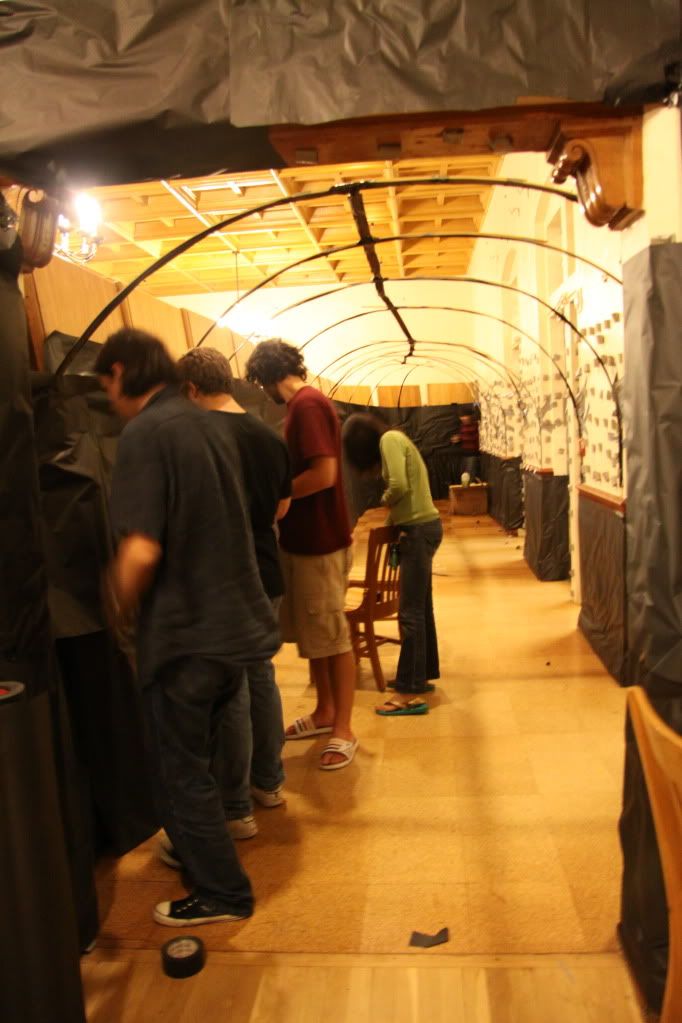 Here's the finished product of Build Apache, complete with the band they hire to play during the first half of the party: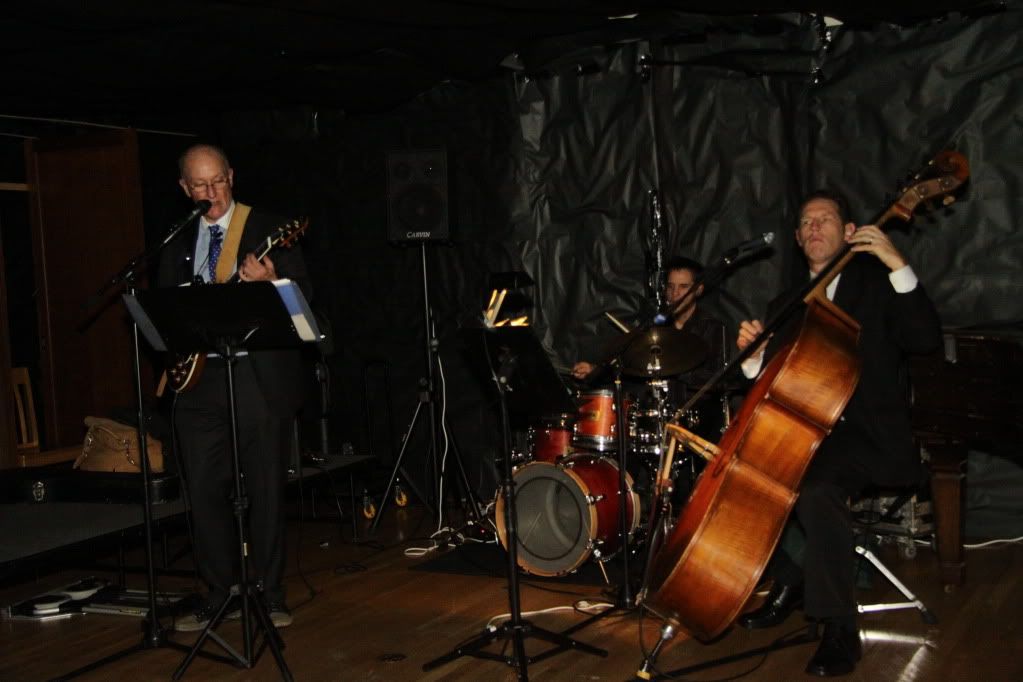 Despite the miserable rain and cold last night, plenty of people left the safe dryness of their rooms and showed up to the party. In fact, it simply made the party even more packed, since everybody squished inside to avoid the wet. 
Also, here's a picture [from last year] of some Skurves in the tunnels waiting to guide people through. The one with the bandanna on his head is the current Ricketts president… I'm not sure why he's yelling…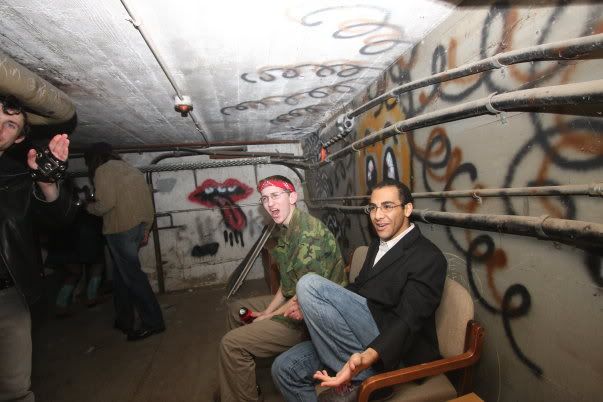 K, that's it for this post. Next up will be my trip to the LA Phil, to be followed by SCIACS, the swim conference meet.
-Jennifer